The Australian model became the heroine of the television talk show The Late Late Show with Craig Ferguson as its host. The conversation was about the secrets of women's charm. Here you might get to know how Miranda manages to stay together with her famous husband Orlando Bloom.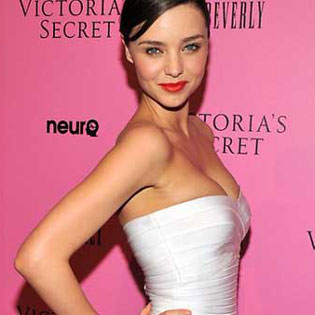 It turns out that Miranda Kerr follows her grandmother's advice as for women's charm. From her childhood, she has been keeping in mind her grandmother's words: "Remember, men love with their eyes." This means that a woman should always be aware of what she looks like, and then it will not be difficult for her to tame her husband.
Makeup and good underwear are all the secrets of family idyll by Miranda Kerr. Every day, she remembers about the two components of her image, and Orlando Bloom does not lose interest in Miranda.
The model has also confessed that now she is not nervous before appearing on the catwalk. And she is anxious only when she is in Orlando Hall. Miranda's husband almost never misses a luxurious show of the cult Victoria's Secret underwear brand, which invariably involves his wife, Victoria's Secret Angel.
Miranda (29) has been married to Orlando (35) for more than two years, and they have a son.