The teen singer Miley Cyrus who showed us the sensual wonders of performing with a stripper pole has decided to give up on the idea, according to the E! Online sources. Much to the chagrin of many of her fans, no doubt! Although she had thought of using a stripper pole for the song "Party in the USA" on her approaching Wonder World Tour, she changed her mind when her appearance at this year's Teen Choice Awards with an alluring bit of pole-dancing didn't come down as well as was expected.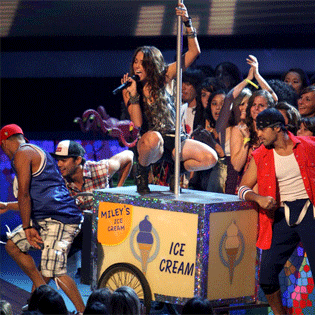 Therefore a sort of a hotel-bellhop luggage cart was brought round, and the famous Hannah Montana girl is going to do some rolling on it. A poor substitute?
Yet, an inside source gives out that "Miley cares about being a good role model to her fans and didn't want to offend anyone."
Source of the image: buzzworthy.mtv.com.