Marcia Cross, the actress, who played the redhead Bree in the famous "Desperate Housewives" series, does not have any wrinkles despite her age (she is 50 years old). A few days ago, paparazzi spotted the star absolutely makeup-less and were astonished by the perfect smoothness of her skin.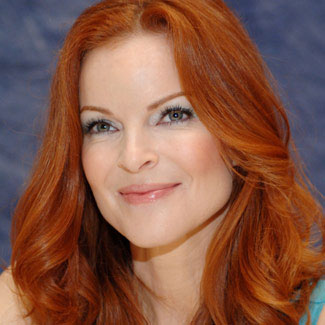 Marcia Cross was pictured by the paparazzi while shopping with her friend in Santa Monica (California). The actress' perfect "china" face was not disfigured by a single wrinkle. The actress extended her stylish image with a large black Chanel bag and an orange Alexander McQueen scarf.
Cross takes great pains to maintain her skin in a good condition. She always uses creams with a high SPF on her face and the best quality products for skin care, such as Creme De La Mer.
It is unknown, if the actress resorts to plastic surgery, but this possibility can not be excluded. Thus, the famous Manhattan plastic surgeon Dr Jennifer Walden is convinced that Marcia uses Botox because the actress looks somewhat "frozen", especially in the forehead and glabella areas (in the middle of the forehead, between the eyebrows above the bridge of the nose).