Lady Gaga got herself reborn for Grammy Awards show in a rather unorthodox fashion.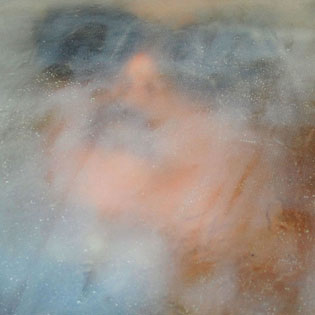 Stefani Germanotta, better known as Lady Gaga, turned up at the Sunday's show in an egg-shaped receptacle resembling a womb – it was a sort of an introduction to her new single Born This Way. Following this appearance, an explanatory phone call was placed on Tuesday into Ryan Seacrest's KIIS-FM radio show.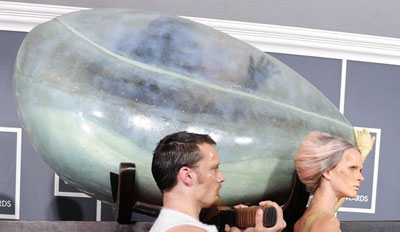 Lady Gaga – who says that she "really wanted to be born on stage" – claims to have spent in the vicinity of 72 hours in the egg, getting in the mood for the song's performance. During this recluse that she refers to as a "creative experience" she meditated on the message of the song as a necessary part of putting it through.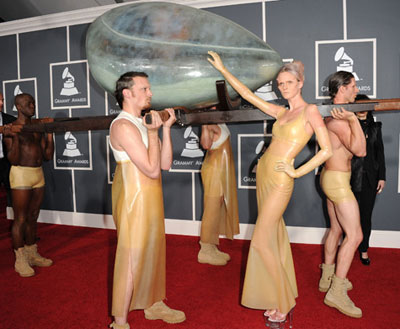 In spite of giving rise to very variegated reactions, the 24-year-old singer described her embryonic means of building up the right spirit as an evidence of her inspirational attitude to the single and the album in general. She had stayed in the vessel backstage right before coming out onto the stage to keep focused on the meaning.
While the Born This Way single came on top of the hit list on iTunes, Gaga shared that more in the same vein is in preparation. The egg song will be succeeded by the single Judas that is to be released a few weeks ahead of the new album.
The singer told Seacrest that she was completely satisfied over the collaboration with RedOne in making the record.
The oncoming album will also feature Government Hooker, Marry the Night and the song that is Gaga's favorite, Hair, which has a Bruce Springsteen sheen over a club number.
The pop hitmaker confessed to liking the color palate of the Grammys stage, an aspect she has always been partial to, for her way of creating her performances has a lot to do with colors and hues. For Gaga music is "a wall of sounds and colors" that she has to represent when embodying her feelings and ideas in songs.
Source of the image: Huffingtonpost.