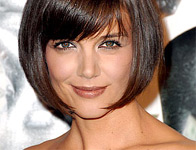 The absence of Katie Holmes and Tom Cruise at the 2009 Oscar ceremony came as bombshell to many people. It turned out that the actress decided to skip the ceremony because of her diet. Katie, 30, feels very weak now as she's sticking to strict detox diet. Holmes and Cruise are keen to have a second baby and the detox diet is an essential preparation for pregnancy.
According to Daily News, Katie is now getting rid of toxins in her body but sometimes feels exhausted and apathetic because of the diet.
Holmes's detox program includes intense physical exercises, visiting a sauna bath, taking vitamin and mineral supplements and special purification additives, and drinking only herbal teas.
Daily Mail says Tom's encouraging his spouse and insists that this kind of diet is a must before conceiving a new baby.
Source of the image: usmagazine.com.