It must be the slimmest image ever of Kate Middleton as her picture graced the cover of the May issue of the British fashion magazine Grazia. And the Duchess of Cambridge may never look so thin again for the simple reason that her photo had been doctored.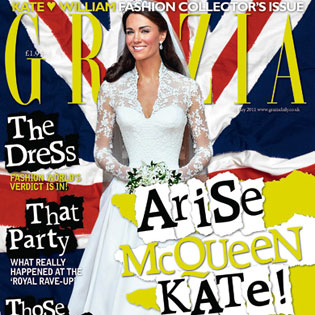 The photo, where Middleton "poses" in her wedding gown by designer Alexander McQueen is actually an edited cutoff, the mag had to admit. When Britain's Press Complaints Commission issued a statement stating that doctoring the image had resulted inadvertently in the conspicuous slimming of the Duchess' waist, Grazia's rep explained to Today that they hadn't meant to achieve this effect.
The rep said the magazine was sorry for creating the wrong impression that was in no way intended.
The reason was they had been looking for a solo picture of Middleton, but there had been none to be found, at most shots Middleton was arm-in-arm with Prince William. The decision was to remove the Prince from the photo. That led to having to make alterations to his wife's right arm, and nobody paid attention at the time that her waist came out thinner than usual.
Source of the image: Usmagazine.