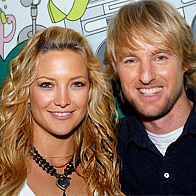 Kate Hudson – who's now keep coming to the house of her colleague and former lover Owen Wilson – fueled rumors that they are dating again. Over the past two weeks, the actress has been spotted many times at Owen's Malibu home. According to a source, she drops in at least a couple times a week, sunbathing in the back yard and kicking back by the swimming pool. Rumors say the actress once brought her five-year-old son Ryder around.
The celebrities became romantically linked after meeting on the set of You, Me and Dupree in 2006. They split after nine months of dating, and Wilson attempted suicide. Afterwards, they resumed the relationship last year, but the reunion was brief. After Kate divorced from Chris Robinson, she dated Dax Shepard and Lance Armstrong.
Source of the image: abcnews.com.