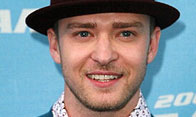 Two pop-stars – Justin Timberlake and Leona Lewis – are planning to collaborate on a cover version of Whitney Houston's classic I will Always Love You. According to the Sun's source, they will record the track in the next few months and are just waiting for a period when they are both free.
Both celebrities love each other's music. Justin says he's been impassionate to collaborate with Leona since they met last year on his show Justin and Friends. Meanwhile, Leona's manager Simon has banned her from touring saying she is too "shy". Simon thinks Leona is a world class singer but he still feels she now lacks self-confidence for big shows.
Photo of Justin Timberlake: allposters.com.