Josh Duhamel, 36, of Transformers must have forgotten all about his gorgeous wife Fergie when he fell for the busty charms of an Atlanta stripper! The National Enquirer has got the whole story pat in the new edition.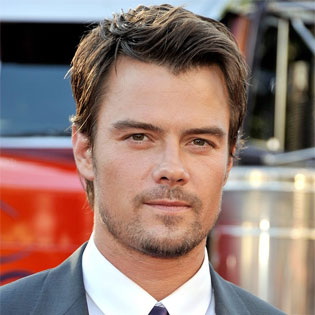 Although Duhamel is vociferous in his denials, the Enquirer has the whole tale from an all-nude club visit up to a torrid sex climax straight from the horse's mouth (the horse in this case being the stripper herself professionally known as Delilah). According to the Enquirer, Delilah, aka Nicole Forrester, was paid for recounting the bombshell episode and subjected to being polygraphed.
And that's what came out.
During his stay in Georgia for filming Life as We Know It in the first week in October Duhamel and a friend decided to while away the time in an all-nude club Tattletales Lounge (why on earth didn't he heed the name?). That's where his roving eye fell on stripper Delilah.
He introduced himself as "JD", Forrester's story runs, and let out that he was engaged in making a porn movie (Life as We Know It is a romantic comedy). Upon exchanging some compliments and sharing some Gray Goose vodka, Duhamel wanted Nicole to dance for them.
The night of all-nude fun over, he left the club with her phone number, and before long there he was calling her and finally inviting her over at the St. Regis hotel where he was staying. That was on October, 9. The date, as recounted by the stripper, ended in their having sex. Was the fling worth it, Josh?
Source of the image: style.popcrunch.com.