Heidi Montag and her mother Darlene Egelhoff couldn't be deeper into a heart-rending drama than they are now. It's cops that are the only means of communication left between them starting from last Thursday.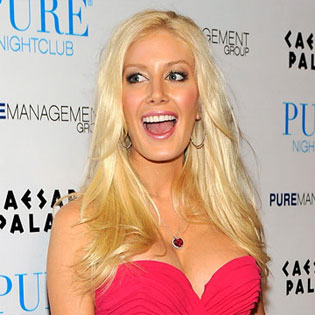 When Montag's mother turned up at her daughter's Los Angeles home last week, the TV celebrity called in the police to tell her off.
PEOPLE has this story straight from Montag. "My mom showed up unannounced to my house when she knows I have no interest in seeing or talking with her. She tore my heart out on national television. She is just trying to create drama in my life."
The Hills star refers to her mother's public denunciation of her after she returned to her home in Colorado and exhibited to the world the results of her 10 plastic surgery body improvements. Egelhoff's strongly voiced opinion made her daughter burst into tears and left her in such a state of dejection that Montag's husband, Spencer Pratt, branded Egelhoff's reaction on Tuesday's episode as emotional rape.
Montag's story was fully corroborated by the police. Los Angeles Police Department Sgt. Leffew described it as a quite peaceful episode with no necessity for citations or arrests. On being explained by police officers that Heidi Montag is within her rights to deny her mother entrance Egelhoff just shrugged it off and left.
Egelhoff chose not to return calls to supply her comments on this.
Montag's dissatisfaction with her mother's attitude is such that she doesn't want to have her mom any more in her life, as she let on to PEOPLE. She insists that she remains deeply shocked at her outbreak and is ready ask the police to keep her mother away even if it means obtaining a restraining order against her.
Source of the image: edition.cnn.com.