For many years, TV host Ellen DeGeneres has been working hard on American television. "The Ellen DeGeneres Show" has beaten all the rating records. It is frequented by the U.S. President Barack Obama and First Lady Michelle, while the Hollywood stars dream of being invited to her program.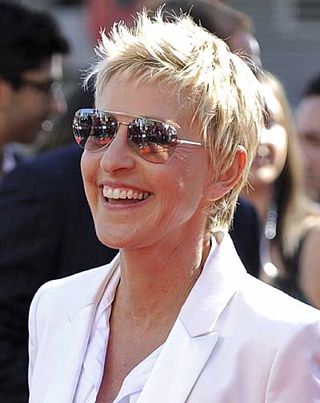 Now, the winner of 11 "Emmy" awards has finally got a coveted star on the Walk of Fame in Hollywood.
We remind that in order to get a "star", one needs to work in one field for at least five years. In addition, the proud owner of the award must agree to the placement of the star and pay a personal visit to the awards ceremony.
54-year-old Ellen did not reject the award and eagerly came to Hollywood. The TV host shared the joyful event with her wife Portia de Rossi and her colleague Ryan Seacrest (by the way, the latter is not only Ellen's friend, he also bought her mansion in Beverly Hills.)
82-year-old mother Betty, who is proud of her bright and purposeful Ellen, also came to congratulate DeGeneres with such a significant achievement.