Hollywood actress Courteney Cox, the Friends TV series star, is far over 40, but she does not look her age. An awesome fit body, glowing skin and beautiful hair… Courteney Cox definitely knows some secrets of how to care for herself.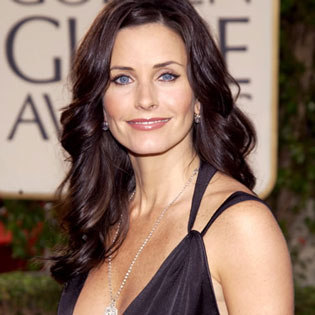 Fitness in Courteney's Life
Courteney Cox says she manages to look good mainly due to constant physical exercise and healthy eating. Her coach – Tracy Anderson – is known for her collaboration with Madonna, Gwyneth Paltrow and Kate Hudson. The actress is training under her supervision four times a week. Tracy Anderson's method is aimed at uniform training of all body muscles, which allows to obtain feminine shapes and get fit without the effect of over-muscularity.
Courteney Cox combines fitness yoga, martial arts, meditation, stretching, and cardio in her training. This combination of exercises is called Budokon. Courtney is also engaged in Pilates. The actress likes to relax actively. Paparazzi often take photos of her on vacation with her family in Hawaii. As a rule, she surfs in the ocean or goes kayaking.
Courteney's Dieting Tips
Courteney practices proper and balanced eating. The basis of her diet is salads, fish, and vegetables. She also loves cheese and nuts, as she believes that these products help maintain youthfulness. However, she says, it leaves some room for maneuver: she sometimes eats sandwiches with butter and pasta with a fatty sauce. Courteney does not deprive herself of her favorite carbohydrates.
Currently, she keeps to a diet that excludes carbohydrates for breakfast or lunch, but welcomes them for dinner. The star also drinks plenty of water for her skin to remain fresh and beautiful. Courteney acknowledged that maintaining harmony and beauty is becoming increasingly difficult with age, but she finds some advantages in maturity. She says, though preserving beauty after 40 is very hard, and does not always gives the desired effect, the experience and knowledge that women have in some way make them sexier with age. Courteney is sure that a 40- year-old woman has a unique charm.
Skin Care
The actress is not particularly selective when she needs cosmetics. She uses a lot of moisturizers, especially at night, and never goes to bed without removing all makeup and without washing her face thoroughly. As for the hair, the star uses restoring masks once a week and moisturizes hair ends with almond oil. She claims that she uses plain Clairol hair dye of dark shade from the supermarket and is very pleased with the result. Indeed, her long shiny hair looks charming, especially when combined with light eyes and ivory skin. Courteney admits that she periodically makes Botox injections to tighten the face and get rid of wrinkles. However, unlike many other Hollywood celebrities, she does not look unnatural or funny because of this.