The famous supermodel of the 1990-s Cindy Crawford says she does not envy the modern girl-models. Today's working conditions and the standards of beauty are too complex, Cindy says. And she would never become a celebrity today.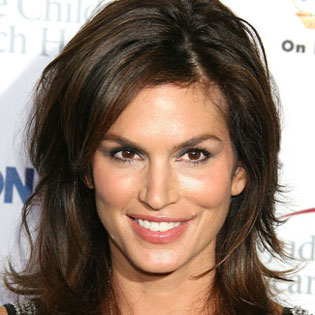 45-year-old Crawford believes that it is very difficult to get a job as a model now. There is too much competition, and one needs to have a lot of talents to get through, she admits. In addition, the standards of beauty are far from those Crawford had when she became a model.
Cindy claims that when she was a model, size 6 was considered the norm. Unlike today, when the girls have both 2 and 0.
It should be noted that the supermodels of the 1990-s are still in demand. Many of them are over 40 now and have kids. Cindy Crawford is just one of the famous supermodels cohort, together with Naomi Campbell, Linda Evangelista, Claudia Schiffer, and Christy Turlington.
Crawford does not appear on the catwalk now. And she says she is keen on family and children. As for aging, she likes to repeat her mother's words: "Better wrinkles from smiling than from a frowning forehead". Therefore, Cindy preaches optimism and enjoying life. This is the secret of her youth.
Crawford has been married to an entrepreneur Rande Gerber for about 13 years, and they have two children: Kaia (9 years) and Presley (11).
According to the supermodel, she would like her children to grow up healthy. And the main thing here is her personal example. Cindy Crawford says: "I think that children are absorbing what you do rather than what you say. Therefore I am happy to take them to my training."
Source of the image: Goodhousekeeping.