Carrie Underwood, American Idol winner and Grammy Award winner (to name only her most illustrious awards), has pledged her heart away, and that is official, folks! Her representative announced: "I'm happy to confirm that Carrie Underwood is engaged to Mike Fisher, and the couple couldn't be happier."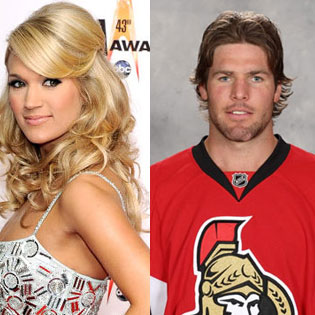 The Toronto Sun had it a day before, on Monday, straight from the Canadian hockey star himself, who declared that they were "obviously excited and very happy."
Underwood, 26, and Fisher, 29, have been together since last spring when they met at one of her concerts. For some time they were very quiet about their relationship, but a passionate declaration of love for Mike appeared in the liner notes of Underwood's third 2009 album, Play On.
The proposal that clinched the matter was delivered at Fisher's home on Sunday, and the happy fiancé informed his friends of the event immediately.
Nothing has been said about the wedding so far.
Source of the image: Nydailynews.com