Ashton Kutcher became a Two and a Half Men regular in May, and he wants the whole America to know of his debut well ahead of time, as the campaign for the sitcom is on its way. A titillating part of the campaign is a marketing photo that shows the 33-year-old actor and his CBS comedy costars Jon Cryer and Angus T. Jones seemingly stark naked behind a large sign promising that "All Will Be Revealed" and giving the show's premiere date (September 19).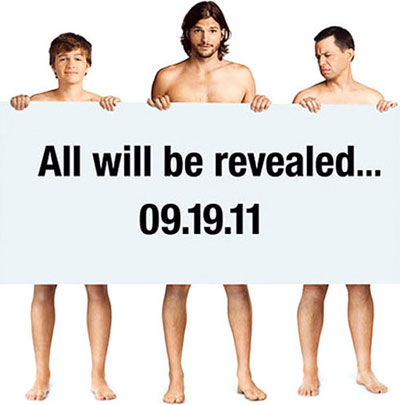 Charlie Sheen, 45, whom Kutcher replaced on the show after his dismissal in March following his drug rehab and public appearances, has already made some slighting remarks on the future of the sitcom, hinting to TMZ last month that the demo version 2 may be the most enjoyable thing in the next season.
It's a different reaction from that of another Two and a Half Men's star, 46-year-old Jon Cryer, who welcomes the arrival of Kutcher on the cast. He has known Kutcher since way back when they were modeling together, and is sure that his talents "will be an asset to our show," quipping that their "exceptional physical beauty" is beyond any doubt, but they will be able to show their best comic prowess.
Source of the image: Huffingtonpost.