34-year-old Angelina Jolie forced Oprah Winfrey out from the leading spot on the list of the most influential celebrities, published by the Forbes magazine. The hostess of the Oprah talkshow, who was on the leading spot for the past two years, found herself on the second place this year. Angelina's income is significantly lower than that of Oprah (the actress earned $27 million over the last year, while Oprah – $275 million), however she is the most famous celebrity in the world and her life is gossiped by the press every day.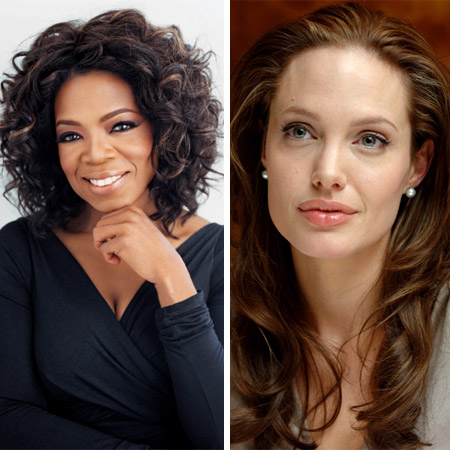 By the way, Angelina's partner Brad Pitt is at the ninth position, regardless of the fact that he earned a bit more than she did.
Madonna went up from 21st place to the third; her world tour alone brought her $110 million. Fourth place was taken by rapper Jay-Z's wife, Beyonce, while Tiger Woods placed fifth, whose income for the last financial year was $110 million.
And here's the list of 20 most influential celebrities in 2009 according to Forbes:
Angelina Jolie
Oprah Winfrey
Madonna
Beyonce Knowles
Tiger Woods
Bruce Springsteen
Steven Spielberg
Jennifer Aniston
Brad Pitt
Kobe Bryant
Will Smith
Dr. Phil McGraw
David Letterman
Coldplay
Adam Sandler
Harrison Ford
Michael Jordan
LeBron James
Tom Cruise
Source of the images: artesbe.com, vday.org.