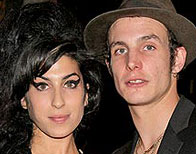 Blake Fielder-Civil claimed to be divorcing from Amy Winehouse for her own good. He states that he has to give her a chance to save her own life and that he does it in the name of love. In his interview with the News of the World tabloid the 25-year-old Blake admitted that Amy started taking crack and heroin from his hands (she used to smoke marijuana before meeting Blake).
He also confesses that it was his mistake taking drugs in front of Amy. He feels absolutely responsible and guilty for that. In his eyes, crack is the stupidest thing in the world, as it makes the person who takes it paranoid. Blake feels responsible for not stopping Amy at the right moment and believes that heroin eventually lead them to the break-up.
Amy Winehouse is still hospitalized. She was sent to the hospital a week ago. Some sources say that she already had a meeting with her lawyers. Her press-secretary, Chris Goodman, said that he could not give any information on the divorce, but what he could announce was that Amy feels better already.
Photo of Amy Winehouse and Blake Fielder-Civil: people.com