It was the end of May that Alicia Keys let the world know about her engagement and her pregnancy, and now the time has come for the grand occasion!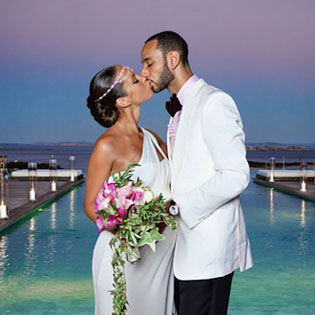 Alicia Keys, 29, and producer Swizz Beatz, 31, the inspiration behind her new songs, have just tied the knot, which is officially confirmed by the singer's rep.
And UsMagazine supplies us with further details: a closed ceremony, attended by family members and best friends, took place in a private home on the Mediterranean coast, presided over by mutual friend Dr. Deepak Chopra.
The bride was attired in a Vera Wang goddess gown, ivory silk (impressively offset by a bouquet of purple calla lilies in her hand), adorned with georgette and a jewel pattern on the back shoulder, while the groom was classically immaculate in a tuxedo.
Swizz Beatz (born Kasseem Dean) who has been emotionally involved with the singer since fall 2008, called their relationship "precious" to New York Daily News at the time; his latest Twitter messages are no less spirited, he feels he has turned over a brand new page, filled with love and blessings.
Keys' enchantment with the relationship inundated her last year's studio album The Element of Freedom. It's her fourth. Beatz is knocking together his third album at the moment.
Source of the image: Rap-up