One of the fitness trends intriguingly called "strip dance" has emerged from the two dance styles: striptease and ballet. But, of course, everyone sees the word "strip" immediately and many are curious what's going on during strip dance classes. Today we are going to tell you about just that.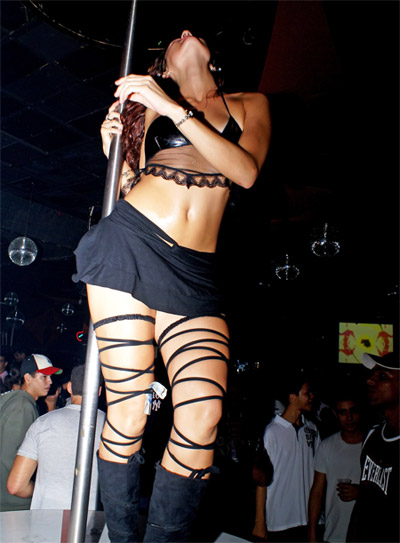 Pole Dance
As a commercial erotic show, female striptease first was seen by public at a student party in Moulin Rouge in Paris, though the idea and practice of strip dance existed in almost every heathen civilization.
In 20th century the striptease became popular entertainment, in which sensual and hot dance performance dominates over simple stripping off clothes. Over the years, social attitude about strip dancers changed drastically. The girls got to be seen as artistic dancers you can only "look at". The image of an independent striptease dancer was emphasized on the big screen, too. Such actresses as Jennifer Beals in "Flashdance", Demi Moore in "Striptease" and Jessica Alba in "Sin City" got into the role of strip dancers who drew the line between their work and off stage life, proving that stripping off before the audience doesn't mean being a dirty woman.
Today, the profession of striptease dancers is regarded as hard work. The dancer has to perform almost acrobatic stunts on a pole and dance in uncomfortable sky-high stilettos, smiling. Besides, the dancer's job is to bring the house down during her short performance, and you need some artistic talent for that. Off stage many of striptease dancers work as dance instructors, teaching the crowd of girls the art of being seductive.
Seduction Classes
Strip dance classes is a great chance to let your sexuality out and surprise you boyfriend, so once you had your first lesson you would never skip another.
It all starts with stretching exercises from striptease guru Carmen Electra. These are a good deal of stretching exercises for your upper body and legs. As classes progress, your instructor will introduce elements with stripping on a chair, floor and pole.
At first your outfit will be a regular tracksuit, socks and gym shoes, later you'll have to wear high heel shoes, sexy
lingerie
and invest in a pair of knee pads.
You'll Get Noticed
Attending strip dance classes, every woman will learn to feel music, her body and the whole life differently. You get this joyful shining look in your eyes, you walk like a cat and your sexuality shows through your every move.
Source of the images: flickr.com/photos/urbanmixer.