Jennifer Aniston celebrated her 44th birthday on February 11, and a few days later she looked elegant and fresh on the red carpet of the Oscar ceremony! Having learned this, some of us felt significantly depressed: Jen's figure looks perfect, despite her age, but what can be said about ordinary girls?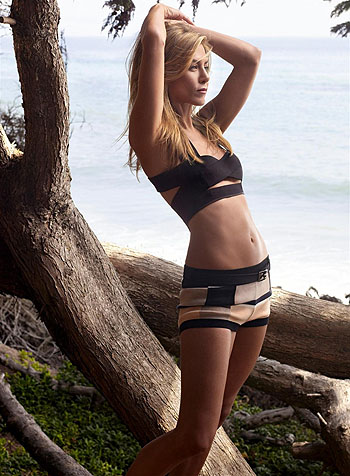 Yet, we have a chance to get a figure of our dreams – no worse than that of Justin Theroux's girlfriend. And that is due to the secrets shared by Jen's fitness guru Mandy Ingber.
Mandy has developed a special area, which she calls "yoga philosophy". These exercises helped Aniston keep her body in good shape and survive her difficult divorce from Brad Pitt.
Choosing the Trainer
Ingber advised to start with simple things:
explain to the trainer that you are a beginner… change at least six types of workouts and trainers to determine the type of load that is good for you.
Love Your Body
The trainer says that creation of a good figure depends on loving your body and being ready to spend at least 15 minutes a day (at least sitting and breathing correctly.) One should add fresh fruit, vegetables and plenty of water. It would be great to forget about sugar.
Exercises from Jennifer Aniston
Here are some simple exercises that Aniston usually does.
"Chair"
Keep the feet together. Sit down on an imaginary chair and stretch your hands up. Take five deep breaths, straining your arm muscles. Straighten up.
Butt Exercise
Stand with your feet hip-width apart and place your palms on the breast. Bend the hips to a sitting position and turn with an effort. Keep breathing. Repeat the exercise eight times, and then draw your feet together. Do the "chair" exercise again.
"Ship"
Lying on your stomach, stretch your arms parallel to the floor, lift the chest and your feet off the floor (your toes should be roughly at the eye level).
Pushups
Keep your elbows to the body and slowly lower yourself to the floor, stopping just a few centimeters away from it. Make sure that your triceps muscles are parallel to the floor, and then straighten your arms.